India 2018
My teacher training trip to southern India in January was a colourful and intense experience and one that's best summed up in images. Even though we spent almost all day every day in practice, training and study I don't seem to have taken many photos of us doing yoga. However the daily life that we experienced was so picturesque that it merits quite literally a thousand photographs to try and convey the essence of India. It was a feast for the senses.
The first thing to say about the whole experience is that there's simply too much to say so I've tried to pick out just a few bits that made the biggest impression.
The training course took place at the Integral Yoga Institute or IYI in Coimbatore which is in the central southern region of Tamil Nadu. A hot, dusty and busy city, the sounds of car horns and scooter horns constantly fill the air. There's so much dust in the air that the light has a very special, almost ethereal quality, making even the most ragedy pile of rubbish look spectacular. It was a beautiful experience and beyond the intensity of the training course, just living the Indian daily life provided an incredible spectrum of sights, sounds, colours, smells each time you stepped foot outside of the Integral Yoga Institute.
The IYI was built some 25 years ago by Swami Satchidananda, the founder of Integral Yoga. It's a large building next to a crossroads in a leafy district of the city. The ground floor is comprised of a lobby and reception, a large hall with a cool marble floor and a stage/altar. This hall was where we spent most of our classroom time. On the 1st floor were 5 twin rooms, very basic, a kitchen room with a kettle where the meals were set out and our outside eating area. On the 2nd floor was another large classroom which was always roasting hot even with all the ceiling fans going full tilt, and finally on top of that a large, very dusty roof terrace. Dr Tilaka, the manager, and staff of the IYI were unbelievably kind and treated us like family. 'Us' being the 9 students on the course – all women and from all around the world, plus the 2 main tutors Swami Ashokananda and Lalita, and 2 supporting staff Lakshmi and Ram who are also experienced teachers. With a ratio of 9:4 we received some great tuition.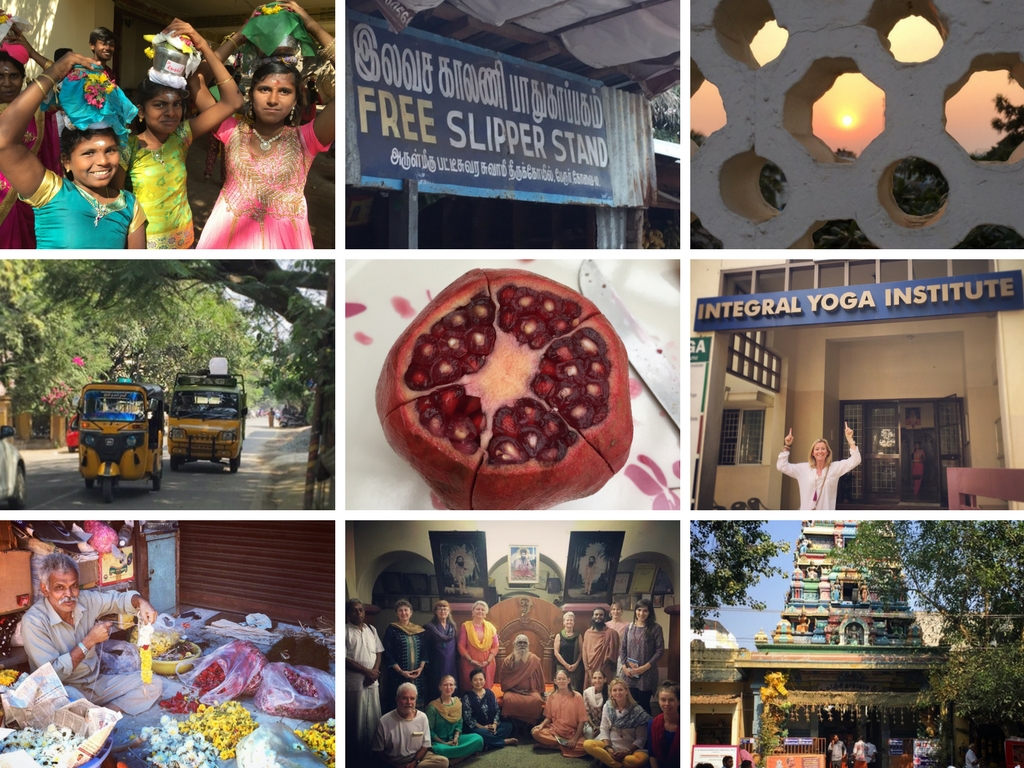 Our daily routine of yogic living was fairly rigorous, the day starting at 5.30 am. 6am morning chanting, pranayama and meditation until 7.00. Yoga practice (including more chanting pranayama and meditation) until 8.40. Then breakfast /shower/prepare for the day. 9.30 first class. Noon meditation including more pranayama and chanting. Lunch at 12.40. Study time 1.30-3pm. Afternoon classes and teaching practice at 3pm. 6pm yoga Nidra and meditation including more chanting and pranayama. 6.40 supper. 7.30 evening lecture. 9.00pm finish and 10pm lights out. Thursday was fasting day. For 3 solid weeks. Almost all the classes were sitting on the floor. I was pretty exhausted by the end of it.
When I signed up for the training I wanted to deepen my own practice as well as what I was able to teach. I got all that and more. With the daily routine being so intensive, hours per day were spent meditating, chanting, doing pranayama and asana practice which really cleans up the body and mind. About 5 or 6 days in so much personal stuff was coming up that I either thought was dealt with or didn't even know was tucked away that my time at the IYI became doubly challenging. Learning and processing simultaneously whilst living a rigorous yogic lifestyle. By week 2 I really hit the wall. I'm not going pretend that it was fun. It wasn't. I was sick of talking about yoga and I wasn't feeling great physically or emotionally. My body ached from so much sitting on the floor and my mind was going to town. However, I figured that it was clearly the right moment for this to happen otherwise it wouldn't have surfaced. In my experience it's when we meet the most inner resistance that we're on the right track for the biggest breakthrough. The group was very kind and nurturing so I decided to ride the waves. By the end of week 2 and after about 10 days of turmoil I finally turned a corner. Or gave up struggling. Either way the result was the same and it felt as if the sun was shining again. It felt as if I'd finally learnt how to really listen to myself and I hope this is a lesson that I won't forget. It's not that I didn't enjoy it because in an odd way I kind of did; simply going through the process and watching, feeling, witnessing the humanness of the experience and how it affected me and my practice. It's just that I prefer having fun.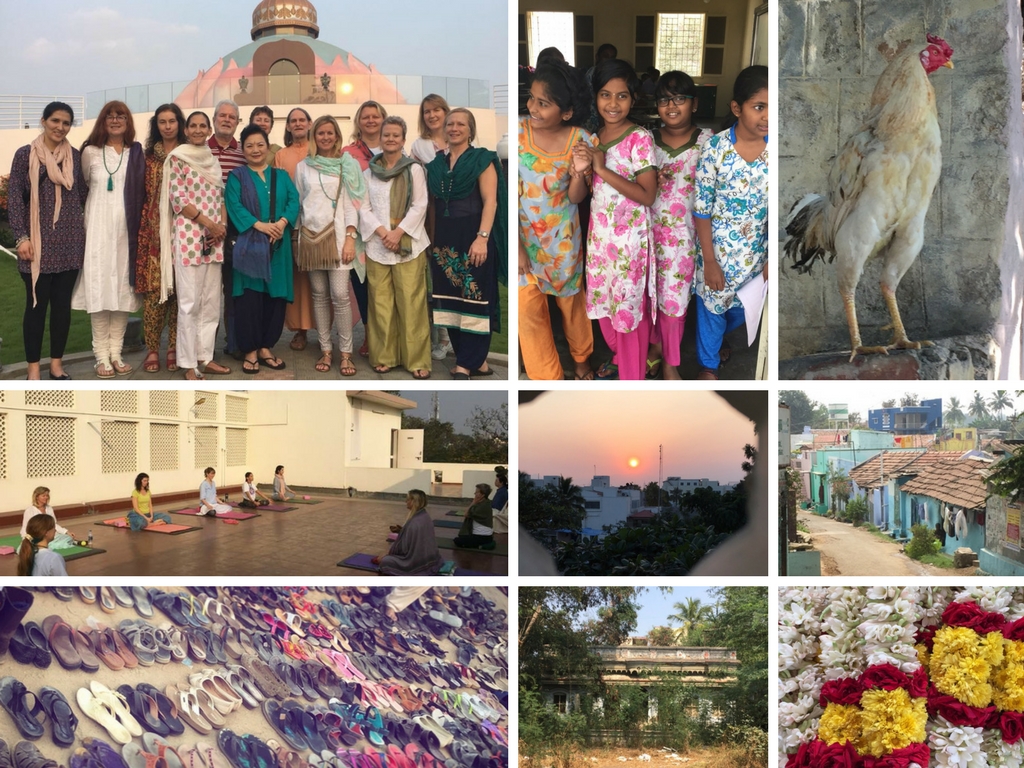 So back to the fun stuff.
Coimbatore is a large bustling town. It took some getting used to the noise, traffic and road system. Basically there were very few rules. Traffic would come from all directions at all times, drivers honking horns to let you know they were inches away from mowing you down. Having said this in spite of all the honking there was very little aggressive driving. Drivers don't seem to stop at any cross roads, preferring to simply honk the horn and keep going. Crossing the road on foot had its challenges. Consequently the soundtrack to our yoga classes, meditations, sleep etc was a constant symphony of horns which died down in the small hours of the night, only to be replaced by barking dogs or screeching goats.
The IYI is located in a part of Coimbatore called R.S Puran, essentially a shopping district (Indian style of course). Getting around on foot was interesting as the 'pavements' (if there were any) looked like something out of a Syrian war-zone, big chunks missing, gaping holes, plain dirt, uneven surfaces. It was quite the obstacle course, especially in flip flops. I spent a large portion of time washing my feet. They seemed to be constantly filthy.

By western standards Coimbatore is pretty conservative. Very few women wore western dress or anything skimpy, most wearing saris or modest Kurtis (long shirt) and trousers. And always a scarf. The funny thing about a sari is that it exposes the sides of the body or love handles, something that most women in the west shy from. Yet love handles are worn with pride in India. It's backsides that are uniformly kept covered by the Kurtis. Having brought almost entirely the wrong sort of clothing I took advantage of the many shops in the district and picked up some gorgeous Kurtis at great prices. Some hand stitched, some in vibrant colours. Now I'm back in Europe as soon as it gets warm enough I can't wait to bust out the bright turquoises, hot pinks, warm corals and daffodil yellows that I purchased. I wasn't even tempted to buy a sari, which, incidentally, could be sourced at amazing prices. Years ago I tried one on but frankly looked like a muffin once I'd been wrapped in metres and metres of cloth.
Food. I almost got used to eating curry 3 times as day, apart from fasting day when we were treated to a delicious apple pomegranate juice and fresh coconut water. Talking of pomegranates, I finally learned how to open one without it looking like someone died – see below. In India it seems they don't use cutlery although fortunately they had it at the IYI. I chose not to embrace eating with my hands. Sloppy curry and fingers just don't go together in my book. Plus everything you touch is covered in a grubby layer of dust. Hygiene people. Hygiene.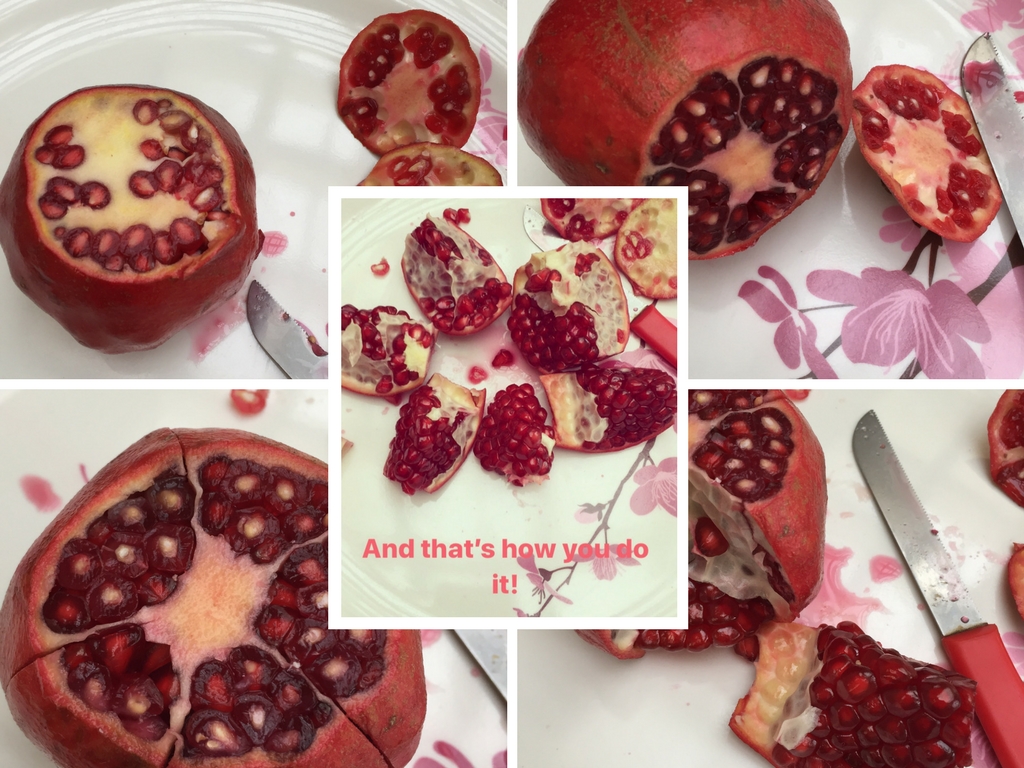 Whilst most of our time was spent at the IYI studying, training, practicing, meditating, we did venture out almost daily to experience Indian life and have a breather during our midday "study break". As soon as you stepped foot outside of the IYI full-on India seemed to be right there. Everything in the extreme. Tuktuks buzzing past, honking scooters, motorbikes and cars, vendors shouting out their wares or ringing a bell, food stalls selling all sorts of things that looked tasty but I didn't dare. Fruit stands sold delicious-looking produce, beggars begged – ranging from the very youngest to the very elderly, people seemed to be sleeping on the side of the busy street in the middle of the day. Scrappy-looking dogs lazed along the pavements. Flower sellers sold temple offerings, temples appeared at regular intervals and everything, yes everything seemed to be covered in a layer of dusty grime. Somehow you just don't seem to mind this after a while. A packet of wet wipes for your hands becomes an essential item. Animals seemed to roam freely along the city streets. I've no idea who they belonged to and nobody seemed to be actively looking for their missing goats/chickens/cows/dogs/horses. Somehow the whole crazy system seems to function and no one bats an eye lid.
We had 1 afternoon off a week and Sunday was a free day. Having said that most of the free days were spent doing organised outings. Sometimes I felt that almost the most fun part of any outing was simply looking at life out of the car window on the journey there and back. Goats chewing posters off the wall, brightly painted tumbledown shacks aka someone's home, overloaded lorries and scooters, potholes in the roads, bustling markets, pokey little shops in shacks or wooden stalls, temples, packed busses, people going about their daily lives. Somehow it all seemed to have a magical Indian-ified quality about it. In case you haven't already guessed I fell completely in love with the place.

We managed to visit the Isha Ashram of Sadhguru out in the countryside. He was in residence the day we went. What an auspicious day: full blood blue moon super moon total lunar eclipse. There was definitely a charge in the air. The ashram is enormous and set on a flat plain surrounded by the Velliagiri foothills which form a protective bowl around the whole area. During an eclipse certain temples (female temples) are closed. However we did manage to visit the Dhyanalinga dome temple which is amazing. The energy inside the dome is off the charts. Later that day we delayed our departure back to the IYI in order to see Sadhguru and listen to some of the chanting which was mesmerising. The chanting took place at the Adi yoga statue (an enormous 40m high head of Shiva) and the acoustics were incredible. All the way home the fully eclipsed moon hung tantalisingly low in the sky, huge, full and orange, seemingly just above our heads.
Another of my favourite outings was to Perur. We visited H.H. Swami Marudachala's ashram. It's appropriate to say that he's an enlightened being. The ashram is about 400 years old and oozing with well-worn character. From the 'reception' area we crossed a courtyard with chequered paving stones over to an inner temple for a blessing with the priests, and then sat on the floor in what felt like an old schoolhouse for snacks and a Q&A session with the swami. It was fabulous just sitting in his energy and presence even if I could barely understand a word. This is called Darshan, absorbing the energy of an enlightened or spiritual being or entity. We were fortunate enough to meet his guru, His Holiness Santhalinga Ramasamy Adigal, who was about 96. He was well enough that day to greet us from his chair and we sat for a little while with him for a blessing. What a treat.
From here we went to the Perur temple complex where Swami Satchidananda was the manager in his early years. What a magical place. We managed to visit the very inner sanctum of some of the most incredible shrines. It was spellbinding. Combine that with priests chanting, incense, hundreds of candles, holy ash, flowers and various temple offerings and you find you're very quickly transported to another time and place.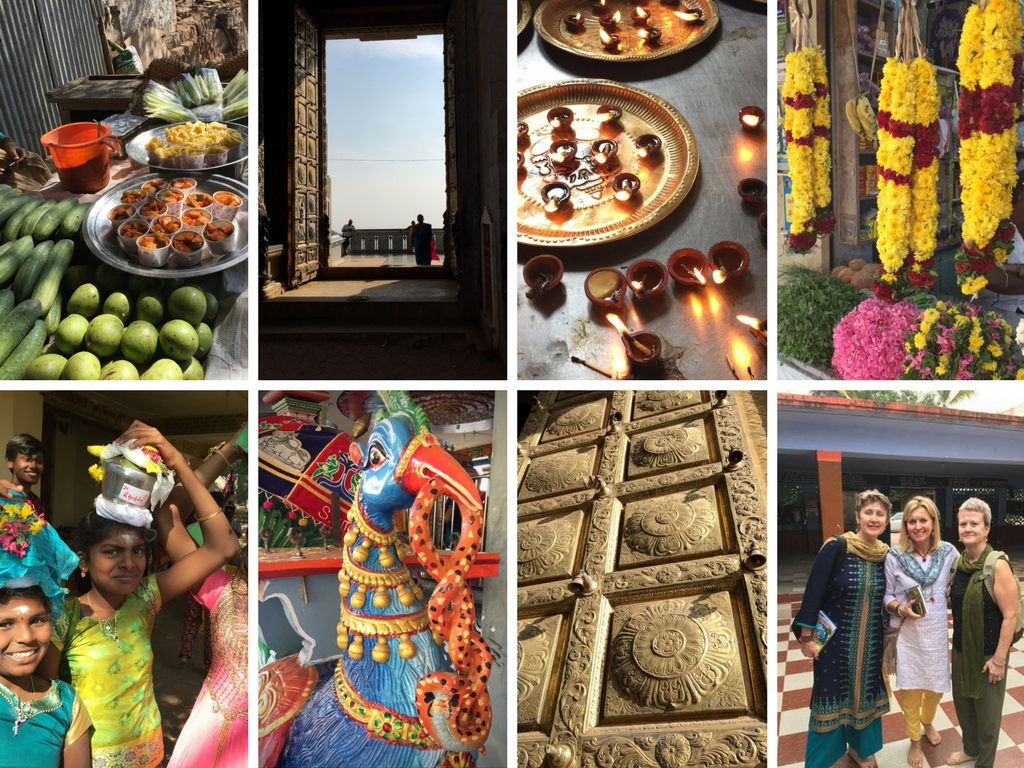 One evening we were invited to an Indian wedding. Several thousand guests were to attend which is apparently fairly standard – and we still didn't manage to blend in. It was quite a surreal experience. All the guests stand in a giant queue and wait to go up onto a stage and offer the happy couple and their families their congratulations. We were ushered straight to the front of a huge reception hall, and straight up onto the stage to meet the bride and groom. There were drones flying around filming the whole thing and umpteen photographers, it was quite an experience. On a giant screen was a pop video featuring the happy couple in their own Bollywood style music video. Never seen that before. From here we went the to food area and I had my first experience of trying to eat runny curry without any cutlery. Not as straight forward as it sounds unless you want to wear your dinner down your front.
On several occasions we were invited to private homes for dinners. Such warm and generous South Indian hospitality. I was also stuck by how little clutter Indians have in their homes. Very tidy, orderly homes with minimal decoration. They must have clutter somewhere, surely? A room where they put all their stuff. One home had a beautiful shrine room, packed with photos, pictures, candles and memorabilia for their chosen gods and gurus. Maybe their 'stuff' is only of a spiritual nature?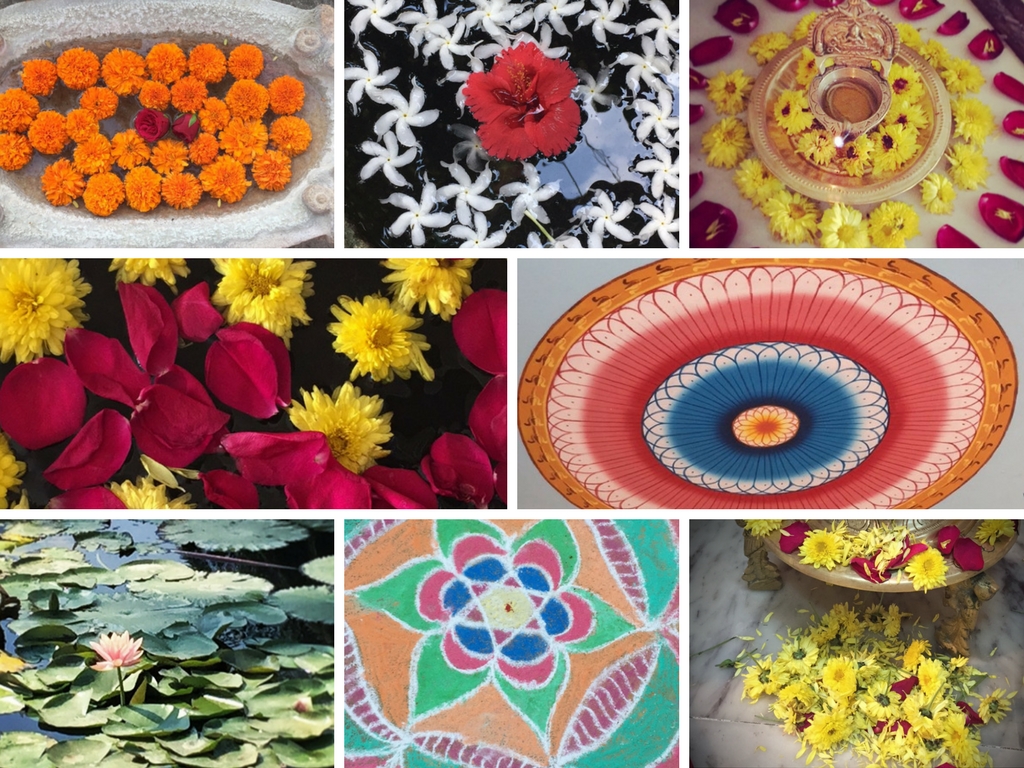 One Sunday we had a genuine day off and chose to visit the Marugha temple. This was the day of my turning point. I'd slept badly, disturbed by vivid and meaningful dreams and was feeling pretty raggedy. The walk up to the temple is via thousands of steps and it certainly felt like some sort of pilgrimage. We set off early, about 7.30 in the morning. The soft morning light was magical as we climbed up flight after flight of steps passing temple-goers of all ages, beggars, chickens, dogs, shrines, fruit stands and a whole host of sights, sounds and smells. It was as if each flight of stairs was an opportunity to shed layers of old stuff that had been weighing me down. By the time we reached the top and had visited the inner sanctum of the shrine we emerged into bright sunlight and throngs of smiling colourfully-dressed Indians all around. There was a crazy drumming and dancing session in the shrine a few steps down the hill. I felt as if the beating of the drums was beating the last of the resistance out of me and the heaviness started to dissolve and clarity gradually reappeared. We spent some time at the temple at the top, mingling with the locals, chatting, doing the inevitable selfies and enjoying the stunning views and wonderful, humbling interactions with the Indians. Their kindness is inspiring.
I could go on with more tales, anecodotes and impressions but the rest will live in my memory for now. It's hard to say what has left the deepest impression on me. For sure the raw beauty of this amazing, colorful, vibrant, spiritual country; the kindness of all our hosts and the generosity of their hospitality; and finally the depths to which yoga can take you. It will never cease to amaze me. My heart has been left brimming with deepest gratitude to the whole group and the IYI.
Readjusting. Since getting back it's been interesting readjusting to life in the west. Everything seems weirdly, blandly normal and life just seems to carry on without the backdrop of constant craziness that seems to be urban India. No free-range farm animals roaming along the streets of Antibes, at least nothing more exciting than a cat. Even getting back into teaching again has had it's challenges. Now trying to assimilate all that I learnt and integrate it into classes without things seeming too different or weird. It's all part of the process of evolution and change. It's all coming together, exactly as it's supposed to. I trust in that. India, I'll be back for sure.