DISCONNECT TO RECONNECT
This day retreat took place on Sunday 12 June at Abi's in Mougins.
A beautiful group of people gathered to experience, practice and learn lots of different techniques for strengthening our connection to ourselves, for getting grounded and letting go of the daily distractions. Techniques ranged from visualizations, guided meditation, breathing exercises, juicing, yoga, relaxation, reflexology, reiki… the list goes on! The day was informative, educational, fun and heart-warming.
A big thank you to all who attended and especially to Justine Lamboley for co-hosting the retreat and to Alex White for bringing along the wonderful Lorna Jane collection.
We hope to see you all again soon!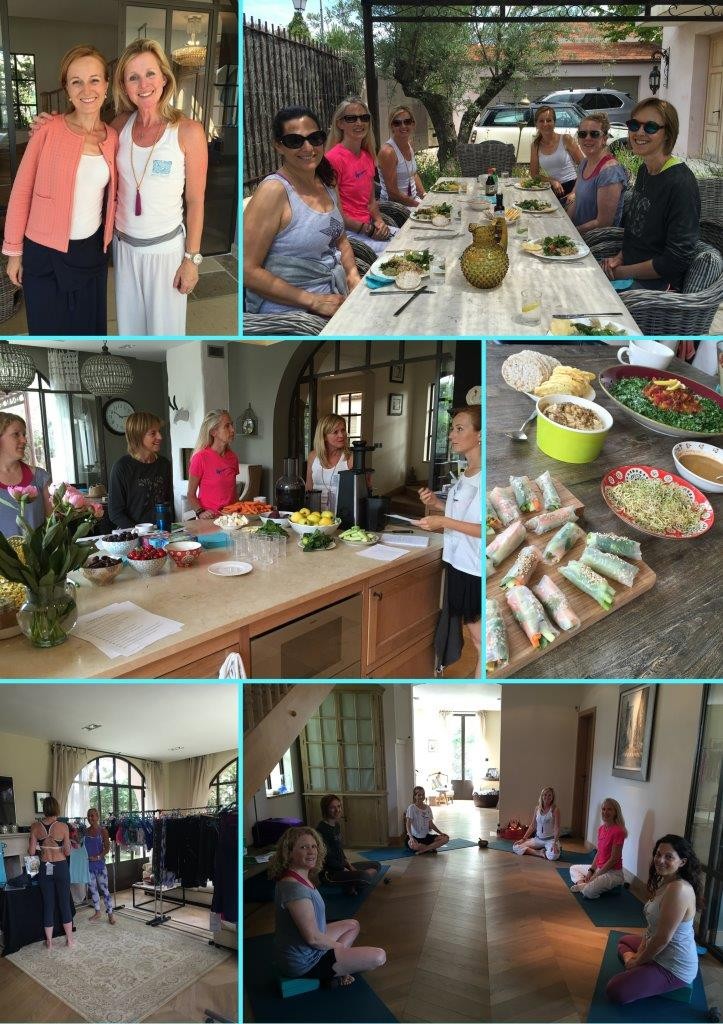 ---
DISCONNECT TO RECONNECT: ONE DAY WORKSHOP
Join us for a one day workshop to reconnect with your sense of self and relax in the beautiful location of Abi's villa in the old town of Mougins.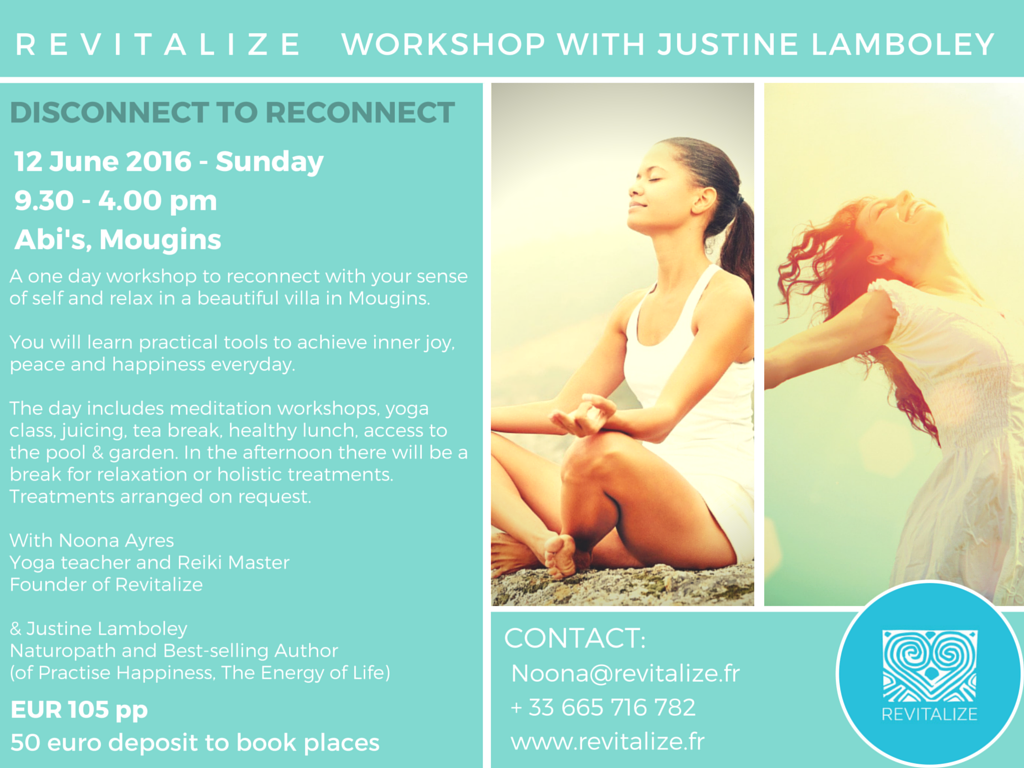 The theme is Disconnect to Reconnect and I'm teaming up with Justine Lamboley, a nutritionist, naturalopath and author of Practise Happiness for the day's events. The focus of the day will be calming the mind, soothing the body and relaxing. You will learn practical tools to achieve inner joy, peace and happiness everyday.
The day will start with a gentle meditation workshop followed by a freshly pressed juice. We'll then move into a lovely yoga practice as we consciously and mindfully move the body to help us reconnect with our sense of self, finishing with a deep relaxation, or yoga nidra. A healthy lunch will be served outside on the terrace in the shade. The afternoon events include time for relaxation or massage/treatments and we'll finish up with some pranayama (breathing practices) and a final calming meditation.
The price for the day includes workshops, yoga class, juicing, tea break, healthy lunch, access to the pool & garden.
Holistic treatments will be arranged on request: reiki, reflexology, massage, shiatsu etc. Prices vary according to which treatment you choose.
With Noona Ayres
Yoga teacher and Reiki Master
Founder of Revitalize
& Justine Lamboley
Naturopath and Best-selling Author
(of Practise Happiness, The Energy of Life)
The price for the day is EUR 105 including lunch (treatments are extra).
Please contact me if you'd like to reserve your space. EUR 50 deposit to confirm your space (non-refundable)