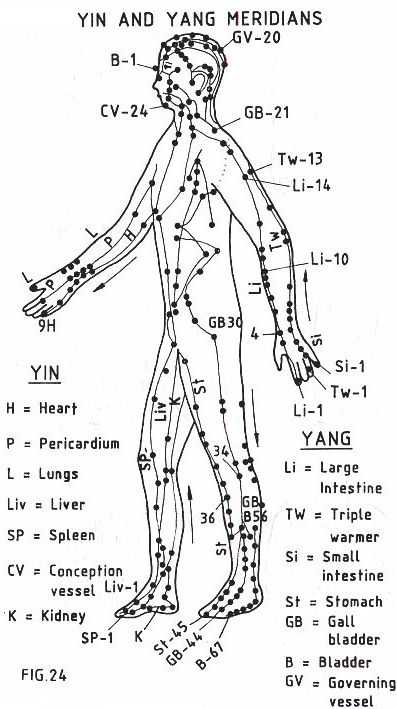 Meridians and the energy System
According to Chinese Medicine, in the human body there are 14 major meridians, of which 7 are Yin and 7 are Yang.
The Yin Yoga practice focuses on 6 of these meridians (3 yin and 3 yang), specifically those which run through the hips and pelvic region:
YIN: Kidney, Liver, Spleen
Chest pain, asthma, abdominal pain, irregular menstruation, impotence, hernia
Hysteria, paranoia, depression, fear, loneliness and insecurity
Wisdom, rationality, clear perception, gentleness and self-understanding.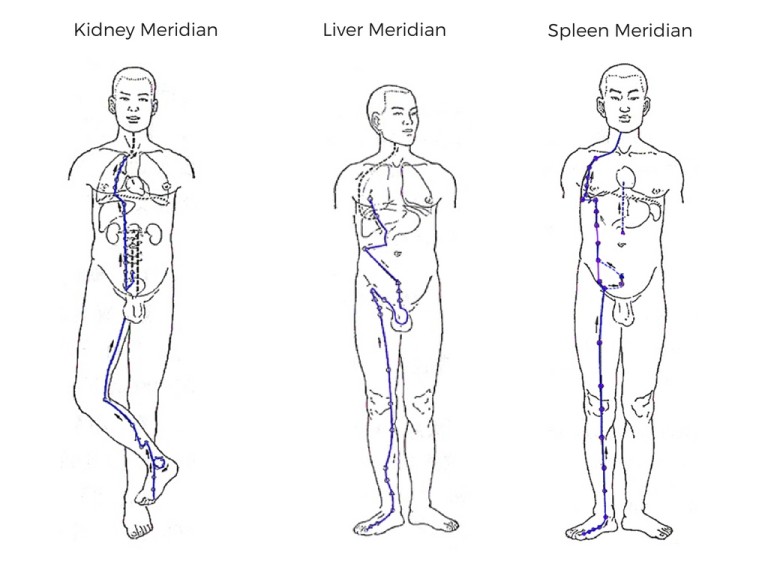 Liver function is reflected externally in the condition of finger and toenails and by the eyes and vision. Blurry vision is often a result of liver malfunction rather than an eye problem.
The liver governs growth and development, drive and desires, ambitions and creativity. Obstruction of liver energy can cause intense feelings of frustration, rage, and anger as well as irritability, resentment, jealousy and depression.
Kindness, compassion, and generosity.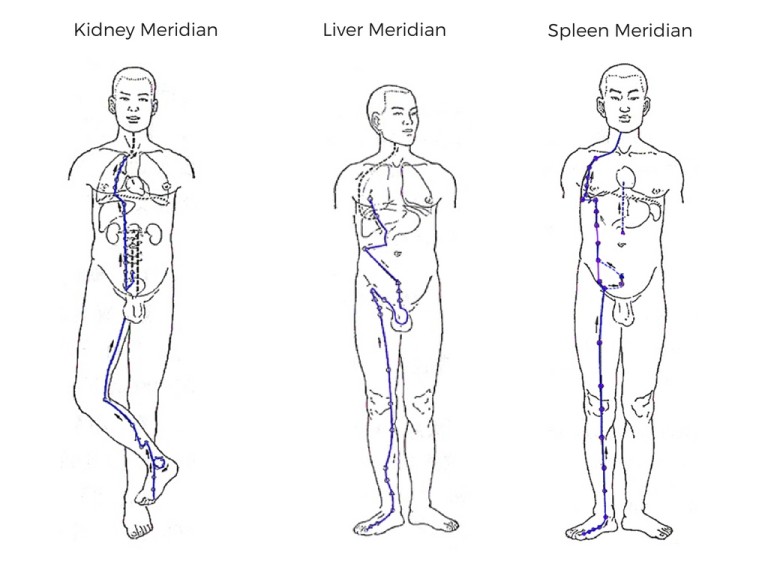 Digestive and stomach problems.
Worry, poor concentration, forgetfulness, cloudy thought process, addiction, attachment, obsession, gluttony, jealousy, self-pity, strong concern about opinions of others, stubbornness, low self-esteem, poor self image.
Fairness, openness, deep thinking and reminiscence, self esteem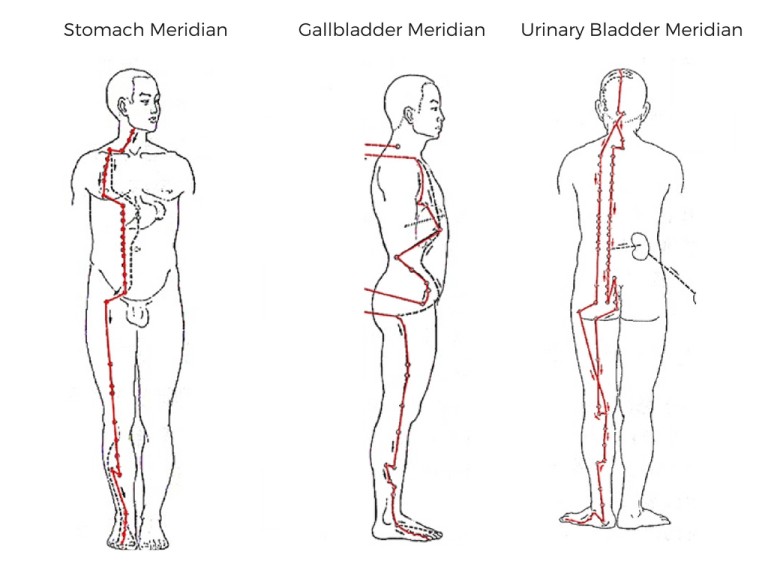 YANG: Stomach, Gallbladder and urinary bladder
Digestive and stomach problems – abdominal pain, distension, edema, vomiting, sore throat, facial paralysis, upper gum toothache, nose bleeding.
Anxiety, worry, skepticism, poor confidence, feelings of suspicion or mistrust.
Fairness, openness and caring.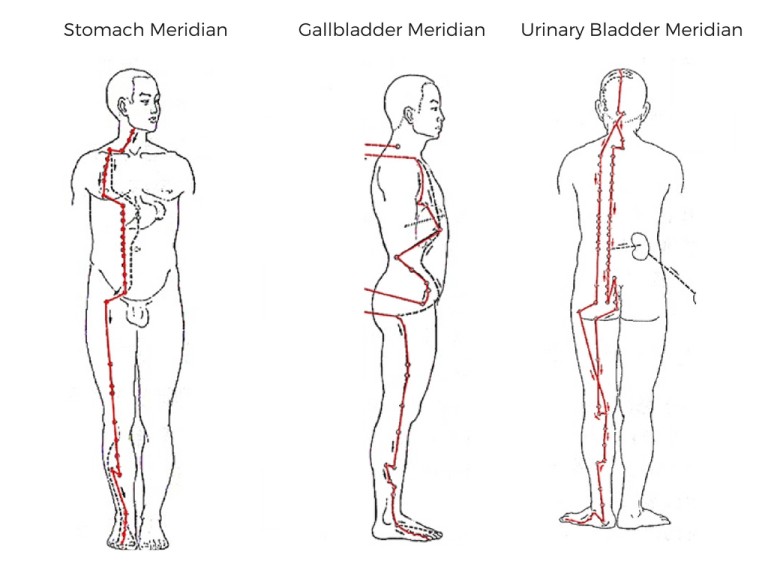 Insomnia – waking up suddenly, very early in the morning and not being able to fall asleep again, tendons, tears, nails, eye diseases, glaucoma, and night blindness, stiff neck, ringing in the ears, dizziness
Timidity, indecision, easily discouraged and resentment.
Courage and initiative, decision making and good judgment, sound sleep, healthy expression and processes of creativity, planning, brainstorming, analysis, and decision-making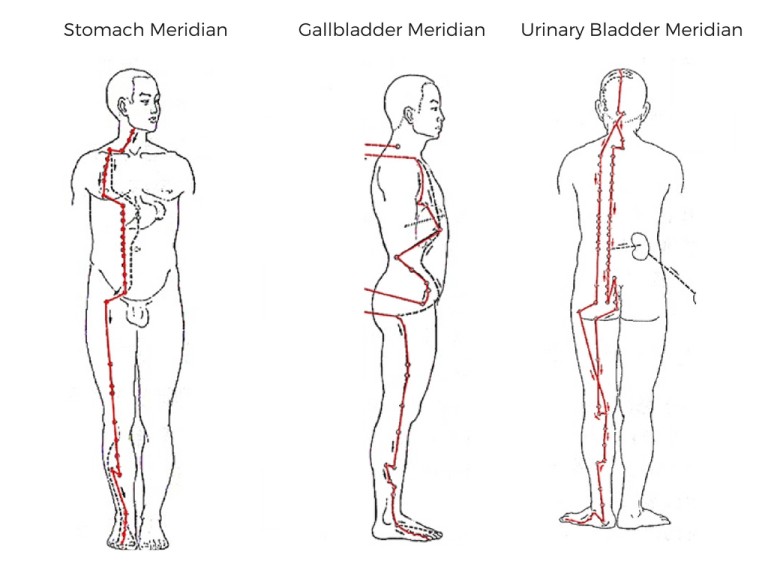 Headaches, back problems, or urinary problems including excessive urination and incontinence, pain in the eyes, tearing and colds.
Lack of energy, being inflexible and fearful – resisting change and basic negative attitude are also expressions of Bladder Meridian imbalance.
Hopeful, looking forward, calm and peaceful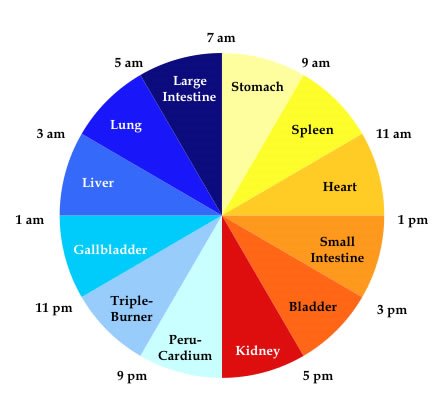 When the energy system is in balance we're in a good state of health, vitality and well-being. However this is not always the case. Through the various postures of the Yin yoga practice we move the thigh bones (femurs) within the hip joint in a variety of directions and as a result all six of these meridians are massaged or stimulated, assisting the optimal flow of chi (qi) or energy through the subtle energy body.
This renewed flow of energy within the system has a positive impact not only on our physical health and vitality but also on our emotional health. Read more here.
Chinese Medicine Body Clock
The diagram below shows the time of day when each of the meridians is active. Interestingly, if a certain organ or meridian is out of balance symptoms are likely to appear at a specific time of day.
Sign Up for our weekly newsletter to get the latest news, update and amazing offers delivered directly in your inbox.