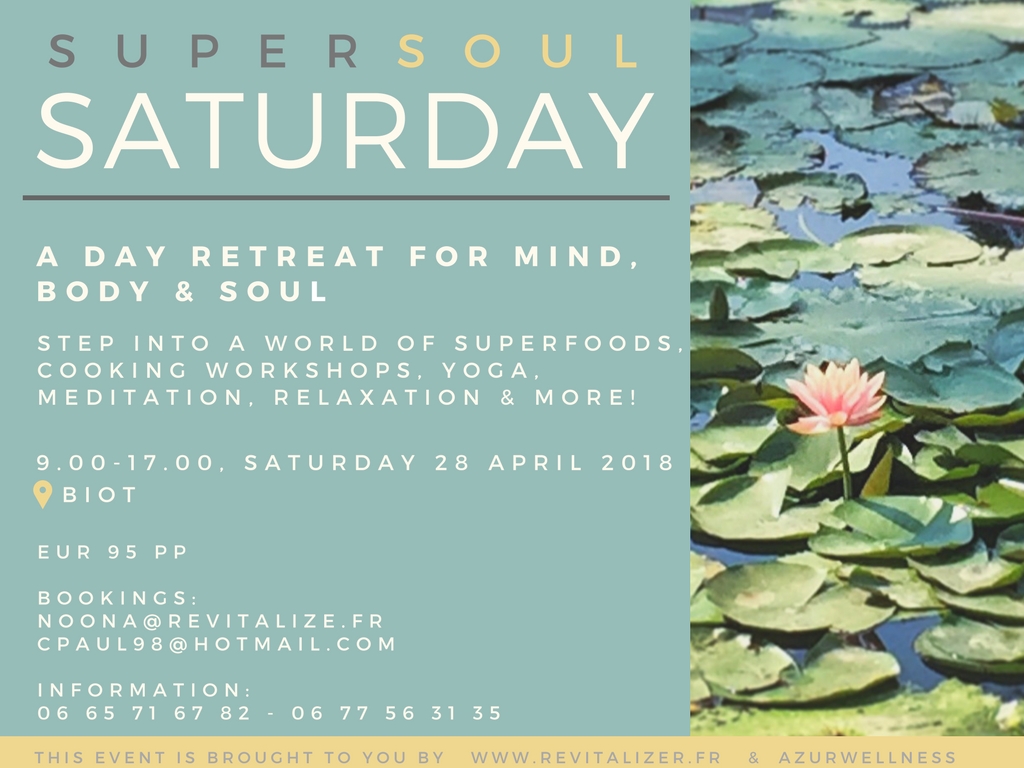 SUPERSOUL SATURDAY: a day retreat for mind, body & soul
Join us for a relaxing and educational day retreat in a beautiful villa in Biot. Set on a quiet hillside, the villa has a stunning garden with  views down to the coast. If the weather is warm and sunny you can enjoy a dip in the pool so please bring swimwear.
The day will start with a welcome tea followed by 90 minutes of Hatha yoga to stretch out any tired, aching limbs, strengthen and tone the muscles, fill the body with fresh prana and calm the mind. The yoga will be suitable for all levels and beginners are welcome : )
We'll take a break for a freshly pressed juice before starting a cooking workshop showing how to make you own nutmilks and some other tasty treats.
A buffet lunch will be served on the terrace in the garden. The afternoon will be focussed around relaxation. There'll be time for a walk down to the village, a dip in the pool, lazing in the sun, snoozing in the hammock, treatments (massage, reiki, facial, etc – at additional cost). Or you can tap into your creative side and learn about the healing power of  mandalas, creating your own or using a template.
The last workshop of the day will be an introduction to chanting and meditation to seal in the full effects of a day of 'me time'.
INFORMATION
EUR 95 pp

9.00 – 17.00, Saturday 28 April 2018. Biot