Stephanie, Antibes
For someone who struggles to meditate and switch off, SOMA with Noona was fantastic. Her voice is so relaxing and enchanting to listen to. By focusing on the music and the different types of breathing it really helps to focus the mind. I came out feeling relaxed and so happy, a feeling that I carried with me all weekend. I am completely hooked!
Shona, Antibes
I had a truly amazing experience with Noona at her last SOMA breathing session. If you haven't tried SOMA breathing before I would highly recommend that you give it a go. The breathing techniques in SOMA breathing are not new, neither many of the concepts, they are taken from yogic traditions and many of you may recognize them. What is new is how they are delivered incorporating music and guided visualisations presented in a particular sequence. For the un-initiated this means that the breathing techniques become much more accessible and easier to relate to. Effectively they are a gateway to an altered state of consciousness – some would say higher – but you need to experience it yourself to make your own judgement. Noona presents the class in a beautifully grounded straight forward and playful manner imparting lightness, joy and knowledge. For me her style embodies what is key to SOMA breath work: a profound meditation experience which is not shrouded in esoteric mysticism, accessible to all without a lifetime's committed practice. This is an important piece of the puzzle to a shift in consciousness and we are blessed to have her introduce it to us on the coast. There is a lot of choice on the transformational playing field – so much so that one gets dizzy in deciding which thread to follow. SOMA breathing is one to try. Give her next class a go, I guarantee it will be interesting at the very least and possibly a LOT more 🦄🦄🦄
Annabelle, Valbonne
Mon témoignage de l'expérience de la session de SOMA. J'ai exploré de multiples outils ces 20 dernières années, personnellement et en tant qu'étudiante en Naturopathie. Ce que propose Noona à travers le SOMA à été pour moi une expérience PUISSANTE d'UNION INTÉRIEURE. Comme si c'était la première fois que je rencontrai véritablement mon ETRE avec une Sensation d' ANCRAGE INTÉRIEUR PROFOND. Une plongée à l'intérieur de soi! Une RE CONNEXION entre le COEUR, le CORPS et l'ESPRIT! Une expérience profonde et transformatrice et divinement accompagnée dans le coeur et la bienveillance infinie de Noona.
Avec une gratitude infinie!
Namaste, Annabelle (Naturopathe)
Zoe, Monaco
I had my first session of Soma meditation when I was feeling pretty tired, coming to the end of a bad cold. After an hour session by Noona I felt completely energised and uplifted. It was like a switch had been flicked.
I found the whole experience fun, unique and the music / breath work session was really incredible. Its hard to put into words exactly why it was so good, but all I can say is that I have signed up to my next session already!
Hervey, Le Cannet
My husband and I have been having twice weekly yoga lessons with Noona for quite some time. We are not young! Noona's caring nature shines through as she carefully steers my husband and I through our routine, ever watchful that he doesn't fall or strain himself. Noona is thoroughly versed in all styles of yoga and I can more than recommend her. She has become a loving interlude in our week.
Bianca Ljungberg, Owner Crew Pilates Antibes
Truly authentic yoga teacher. As a relative newcomer to yoga, I have found Noona's classes easy to follow, well-structured and authentic. You get the sense Noona plans for her sessions beautifully, the postures flow neatly from one into the next, the music is well selected and appropriate, and the readings/texts she shares are always insightful. Noona is not showy or pushy with her style of yoga, allowing her students to explore their practice in their own time and space.
I have especially enjoyed Noona's Monday evening yin class, which I attended throughout my second pregnancy and now in the months after giving birth. I feel the movements and breathing have empowered me and give me much needed time and energy as a busy mom of two.
Annabelle, Naturopath, Grasse
I cannot put into words the amazing healing experience I had through a reiki session with Noona. I also like her capacity of listening and hearing what I was going through at the time with a warm and open heart. Will definitely go back for regular sessions to stay balanced and aligned.
Annabelle
Vivette, (81), Florida, USA
I was very pleasantly surprised to see how easy it was to feel like part of the "team".
Noona is a very good and helpful teacher and the group that took the yoga classes very quickly became friends. It's a very warm and friendly atmosphere and I look forward to joining them again on my next visit to Antibes.
Kate, Antibes
I love Noona's style. Every time I go to Noona's sessions all I can think about is…how I must come to more! I love Noon's soft nature but also feel totally safe in her hands. She's good at guiding you and I always feel so rejuvenated after her sessions.
Emma, Vallauris
Very content mum to be. I have been thoroughly enjoying Noona's prenatal yoga classes. After a day's work, it is wonderful to come to her class and take the time to connect with my body and with my baby as well. I love that the exercises are specifically tailored and adapted to our changing bodies. I always leave feeling strengthened, yet relaxed, and also that bit more ready emotionally to take on the challenges of impending motherhood!
Giulia, Antibes
Wonderful pre-natal Classes: I discovered this class when I was already in my 7th month of pregnancy and I wish I had discovered it earlier. Noona makes you feel comfortable with her warm and welcoming spirit!
It doesn't feel slow and annoying but really relaxing and helpful for body and mind, and all aches, pains, questions, and concerns are welcome. The studio is also very clean and modern.
Clara, Antibes
Noona is an experienced Yoga teacher. She's very attentive to the well being of her pupils and respects the rhythm of everybody. I practice a Prenatal Yoga class which is very adapted for pregnant women.
Arnaud, Antibes
Le Yin Yoga qui me convient. Je suis debutant en Yoga et je cherchais un Yoga simple, doux ou les postures sont maintenues longtemps pour m'assouplir avant de pouvoir faire plus …
Je suis tres content des cours de Yin Yoga de Noona qui me correspondent bien et ou l'approche est tres en douceur avec soi meme. L'ambiance est detendue et conviviale. Le cadre tres apaisant. Peut etre plus tard je reessayerai un Yoga plus dynamique mais aujourd'hui c'est le Yin Yoga qui semble me convenir …
James, Antibes
I attended the International day of Yoga event in Antibes, and experienced Noona's teaching. I was immediately drawn to her ability to connect even at such a large event. I started yoga to compliment triathlon training but after three years I was looking for something a bit deeper. Noona's yin classes were a new direction and experience, exactly what I was searching for. I have also attended her Yoga on the beach which was fun and the coffee and croissants afterwards are really social, love this. I have three teachers, and Noona I thoughly reccomend.
Nina, Cannes
After a reiki session with Noona I feel much calmer and relaxed. It gives me a sense of peace and I feel more connected to my higher self. My mind and body let go of tension and I have a feeling of soothing warmth going through every part of me. Thank you so much for restoring my sense of serenity and contentment.
Zoe, Antibes
Wonderful and Enriching Yoga. I love Noona's classes – I have been doing yoga for quite some years but her classes are a breath of fresh air. She has a calm and kind voice, I feel comfortable and supported in her classes and find her yoga very empowering and grounding. To me, her classes are about power, self awareness and respect.
Martha, Antibes
Noona is a fabulous teacher, she is extremely professional and knowledgeable with a calm and gentle approach. Her classes cater for a wide range of ability and ages and she is continually evolving, as a teacher, on various courses and workshops.
Filipa, Cannes
Yoga by the beach & Pre-Natal Yoga: I love Noona's teaching method! Had a class with her at the beach which was an amazing experience. Now I've been having regular specific Pre-Natal classes which change according to how the body is through each stage of the pregnancy, always addressing the more sensitive areas. The combination of active movement and relaxation is perfect!
Roel, Bluetree Massage
For quite a long time I wanted to experience a Reiki treatment as I had heard about the deep relaxation it procures. So I booked a session with Noona at my home. I was a little curious as I had no idea what to expect but right after the treatment started I felt myself sliding away, almost as I was entering into another dimension. It's hard to explain how calm and peaceful I felt. I've lost track of time and direction. It was an amazing experience that made me aware on how effective Reiki is. Thank you so much Noona for this unforgettable moment. I will definitely book another one very soon.
G Joyeau, Antibes
Noona is an articulate intuitive teacher with a well modulated voice who strikes the right balance between the physical and the spiritual; she has the knack of inspiring and guiding her practitioners.
Stéphane, Juan Les Pins
Depuis le temps que je voulais faire du yoga, j'ai enfin trouvé un professeur qui m'a permis de découvrir cette pratique en toute simplicité, mais également d'y prendre goût. Cela fait quelques mois, mais j'en suis déjà transformé ! C'est comme si, au plus profond de mon être, un recalage et un recentrage s'opéraient. Une évidence comme si j'avais toujours pratiqué…
Un grand merci de me faire partager cette passion et de m'avoir permis de retrouver une synchronisation entre mon corps et mon esprit. Depuis, je ne cesse de recommander la pratique du yoga ! Merci Noona et bravo !
[ Since the time that I've been wanting to do yoga, I finally found a teacher who has helped me to discovered this practice with ease, and also get a taste for it. I've been practicing for a few months, but I am already transformed ! It is as if, in the depths of my being, a resetting and refocusing has taken place. It's as if I had always practiced … A big thank you for sharing this passion which has allowed me to regain synchronization between my body and my mind. Now I'm constantly recommending the practice of yoga ! Noona thank you and bravo!]
Victoria, Biot
Julia, Moscow
Для меня занятие йогой это не только физическая нагрузка, а прежде всего внутренняя работа наедине с собой. Наиболее важным для меня найти того проводника-учителя, который сможет правильно показать всю красоту занятий. Нуна – один из немногих преподавателей, которые являются хорошими наставниками. Каждый раз, приезжая на Лазурный берег, я обращаюсь за её советом и занимаюсь с ней практически ежедневно, чтобы поддержать спортивную форму, а также восстановить внутренний баланс как во время отдыха, так и во время рабочих поездок! Хочу поблагодарить Нуну за её всегда гармоничное состояние и профессионализм! Юля Сумачева
[For me yoga class is not only physical activity, but above all an inside job alone. The most important for me to find a conductor-teacher who will be able to correctly show the beauty classes. Noona – one of the few teachers who are good mentors. Every time I come to the French Riviera, I ask for her advice and do it almost every day to support the physical shape and restore inner balance both at rest and during business trips! I want to thank Noona for her always harmonious state and professionalism! Julia S]
Rod Mitchell, Cagnes sur Mer
I have been working with Noona for several years now on a 1 to 1 basis, and she is very skilled and knowledgeable in her teaching and also in adapting the practice to the state of my body i.e. fatigue, injury etc. Noona is tough and gentle in equal measure and I really enjoy the work we do together.
Caroline, Brisbane
At Kata Rocks resort in Phuket, I had the pleasure of being instructed by Noona
Ayres the visiting Yoga teacher. She practices the Integral technique, which awakened my understanding and enthusiasm for Yoga. Suffering from sciatica after 10 hours of flying from Australia, I headed straight to the spa for a massage. Refreshed after my massage I met Noona, who was sympathetic to my circumstances. Gradually, over the course of a week, she corrected my posture and created a program that I could do myself. Her understanding of the human body and her attention to a calm and holistic experience made the sessions invaluable to the enjoyment of the infinite luxury experience provided at Kata Rocks.
Fathia, Antibes
I started yoga with Noona in May 2014 and it was my very first experience! Since then I have been attending Noona's sessions once a week even during the busiest time of year and try not to miss any. I'm amazed what yoga can bring and change in our every day life! Over the last six months I learnt a lot about the posture, the breathing and how meditation can help calm your mind even if it's difficult sometimes! Noona is a very pleasant and patient teacher who takes the time with each person to correct the posture and give an explanation and this regardless of the person's level. I would highly recommend Noona!
Clarissa, Antibes
Having tried yoga a few times before and never really got into it, I first tried it with Noona at Revitalize with one of her pop up sessions and was hooked. She is an amazing calm and confident person who gives off great positive energy and a great vibe. I am sadly now moving away from the area and am wondering how and what I will think of my new yoga group in comparison – it will be very hard to beat. Next time I come back down, I will definitely be going to a Revitalize yoga session! 😉
Lindsay, Mougins
I joined Noona's classes back in Summer 2014 and haven't looked back. Participating in Noona's Hatha Yoga classes made such an immediate positive change impact in my life. It's the only thing I actually take time out to do for myself. I always feel physically and mentally better after every class. Oh and the Pop up outdoor yoga classes are a must!!
Sonja Lockyer, Yogabunny
I was lucky enough to experience a Reiki treatment with Noona at Revitalize recently, and I have to say it was beautiful and powerful and I can't wait to go back for more. I arrived in a state of agitation and exhaustion, and left feeling wrapped in cotton wool and safe. I can't recommend her enough.
Driss, Cannes
I was looking for a balanced/meditative yoga. Noona does Integral yoga… she has a very pleasant/peaceful/kind presence which allows one to calm the mind while doing a balanced exercise that suits my needs. She is attentive, helpful and honest. I am very happy recommending her.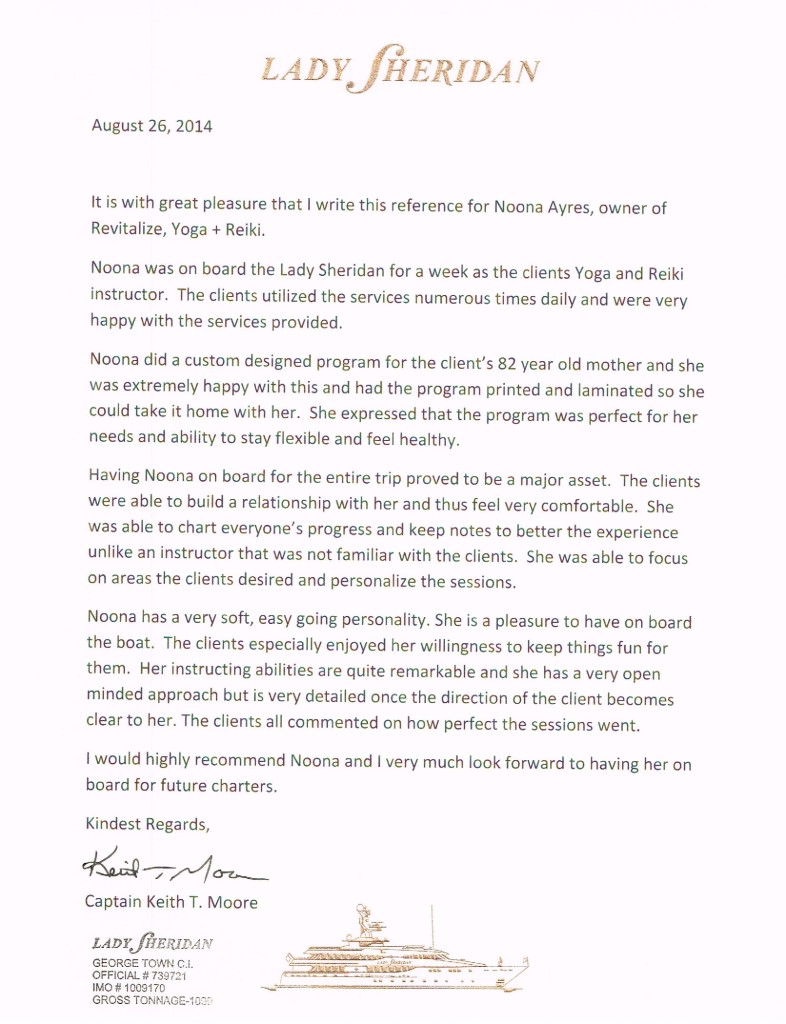 Captain Simon Ladbrooke, M/Y PARAMOUR
We invited Noona on board Paramour recently to 'Revitalize' our Charter guests at their request. Having known Noona for many years I knew the guests would be well cared for, and they certainly were! Below is the direct feedback from the guests –
"We found Noona from Revitalize Yoga to be wonderful during our stay on the Motor Yacht Paramour. Noona would always arrive early to discuss our requirements, taking into account that we were of all different Yoga levels and abilities. Noona had such a warm and calm presence, and made everyone feel very comfortable, including my parents in law who were in their 80's! We all felt revitalised after each session with Noona! I would happily do yoga again with Noona, and would not hesitate to recommend her in the future".
I wish Noona every success with her business and look forward to having the opportunity to invite her back on board to 'Revitalize' more of my guests in the near future.
Carol, (81), Cagnes Sur Mer
"What a joy to see Noona on Friday mornings, always bright and cheery. There are times when I don't really want to do it but Noona calmly carries on and of course I love it. It really does so much good to my body. Noona just seems to know what I need. My wrists and legs are so much stronger now. I even find I am able to walk much farther with greater ease. I highly recommend her for for the yoga sessions tailored to your personal needs. Moreover we have fun and can even put the world to rights."
Caroline, Antibes
"I was recommended to Noona by a friend and having never had Reiki before I was very intrigued about it. When I went Noona was so lovely and welcoming.
The experience and journey was incredible and I very much felt a change in my mood and movment of energy afterwards. In just 1 session I felt the difference.
I would recommend for everybody to try it who are feeling stressed and worried as I felt so much better afterwards."
Solenn, Northrop & Johnson, Cannes
"Noona has a very calming and soothing voice which has helped me tremendously with the meditation aspect of yoga. I find it very easy to follow her lead and drift into the places she guides us. I've also found that with integral yoga, I can make the day's practice as challenging or as gentle as I'd like. Revitalize is a wonderful way to experience yoga for the first time or jump right back into things."
Vania, Peter Insulls, Antibes
"I would like to thank you and the crew for having me on board and a big thank you to Noona for the lesson. I enjoyed it very much! I did not know anything about integral yoga before. The combination of meditation, breath and postural exercises was just perfect for me. When I came on board that morning I had sciatic pain, but did not want to cancel the session with Noona . Even though I was not able to perform all the exercises the session relaxed me and made me feel good."
Ekaterina, ABYS Yachting, Antibes
"The yoga class with Noona was my first yoga experience and even for "very beginner" the practice was easy, calming and very motivating for the next classes! The movements and stretches were gentle and the breath practice was a real anti-stress, I was surprised that after one hour of exercises I wasn't tired at all and moreover felt renewed and relaxed until the end of the day!"
Lucille, BWA Yachting, Eze sur Mer
"Noona's relaxation and meditation session – in the privacy of my own home – was simply spectacular! Calming, deeply renewing. Revitalizing!"
Sonia, Burgess, Monaco
"I was very fortunate to experience a little "chair" yoga, breathing and meditation with Noona at the recent Genoa Charter Show. This was a very rewarding one hour experience and helpful to have tools to get through some occasionally stressful work days! Noona is gentle and knowledgeable. She explains carefully and has the perfect voice to bring you to that "peaceful place".
Frederica, Burgess Monaco
"During the Genoa show we were very lucky to have Noona join us on board for a relaxation and gentle yoga session one morning. She was very professional and her calming voice was a treat to listen to after the hubbub of the show. Noona led the class through a sequence specifically pitched to all levels and appropriate for a yacht. It was a wonderful session in the middle of a hectic show and I am already looking forward to joining Noona for another class."
Andrea, Northrop & Johnson, Cannes
"At once Noona creates a calming and comfortable environment. A true professional she guides you to developing a safe practice both for beginners or more experienced yogis."
Molly, CNI, London
"Thank you so much for the relaxation class in Genoa, it was just what we all needed during a hectic boat show, I particularly enjoyed the gentle stretches and meditation practise, you make a very encouraging and inspiring teacher! "
Georgette, Peter Insulls, Antibes
"I have to thank you very much for the wonderful experience during the Genoa show. I very much enjoyed the session and I did not realise how much yoga you can do on a chair!! I was a bit worried as it was my first experience but the techniques were simple but extremely good. I felt very relaxed after the session."
Seonaid, Burgess, Monaco
"Running in from a hectic schedule and 101 things on my mind, Noona managed to cut off the outside world for a valuable 40 minutes, where I sat and worked very simply on breathing, stretching and relaxing. With her calming voice, easy and interesting explanations and engaging manner, I really enjoyed the 'time out' and later had the best night's sleep I've had in ages. Fantastic!"
Claire, Opio
"Noona came to my house for a private group yoga lesson. We had a very relaxing yet stimulating yoga class with very clear, informative instruction. Truly revitalising!"
Pam, Eze sur Mer
"We really enjoyed the private yoga lesson with Noona. We found her to be gentle and very knowledgable and very easy to follow. It was a good re introduction to yoga for us, yet at the same time gave us a good work out and we will be very keen to get a few practices in weekly with her when we are permanently in France from next year May."
Kate, Antibes
"I have thoroughly enjoyed the yoga sessions with Noona, who as been really informative and clear with her instruction. I always come out feeling relaxed and revitalised and it certainly is the first time I have stuck to a regular routine of sessions, which I will be sure to continue. I can highly recommend these classes to anyone looking to start up/restart yoga. Lessons can be in French as well as English, which is great!"
Charles, Monaco
"Noona is a knowledgeable and engaging teacher, her Revitalize lessons are informative and tailored to the individual level of yoga experience for each member of the class. There is something for everyone, her classes and workshops are relaxed, social and an insightful and interesting learning experience to apply her teaching in everyday life. I have no hesitation in recommending Noona, I regret that I didn't start sooner."
Captain Westerlund, Juan Les Pins France
"As I tried my first Reiki session with Noona, I had no real expectations or even know what to expect, as I did not have much knowledge about the process. Afterwards, I felt calmer and completely relaxed with the same sense of well-being that I would have after a massage treatment in a good spa, but not only in body, also in mind. I can happily recommend this treatment and will for sure treat myself to it again also."
Kerrie, Monaco
"Noona is incredibily professional, she began our session by explaining what Reiki is, she spent time with me explaining the experience of Reiki, things I may or may not experience myself and made me feel totally comfortable and at ease in preparation for my session. Noona was incredibly attentive to my needs, ensured that she understood what I wanted to gain from the session, what I was/was not comfortable with and created a beautiful, relaxing environment for me. The session itself was totally relaxing, I had wonderful "zoning out" moments throughout it and felt extremely energized afterwards. I also felt a physical weight lift off my shoulders (I carry a lot of my tension here) during the session, I had a wonderful sleep that night. After the session Noona's professionalism and genuine care of my experience shone through again as she explained things she had experienced during our session and answered all of my questions. I highly recommend Noona as a Reiki Therapist, her passion for Reiki is deeply apparent which naturally heightened my experience. I can't wait for my next Session with Noona."
Abi, Mougins
"Reiki with Noona was an unbelievably relaxing experience and a treatment I would thoroughly recommend to anyone. The Japanese technique is used to reduce stress and promote healing by clearing your energy channels. When these get blocked we can feel down or get sick so if they are clear we are more capable of being happy and healthy. I truly believe that we all deserve to take some time out for ourselves and 're-boot' and this is a wonderful, non-invasive way to do that. The sounds and smells that welcomed me in the room instantly calmed me and then being wrapped up in blankets was heavenly. I don't remember being so incredibly and fully relaxed and secure for a very long time. I really did feel as if time stopped and that I had rested for hours and hours and hours. My body felt light and my mind felt calm. Just lovely."